By Logan Livers, Storage.com
College is as full of new adventures as your car is on the day you move in to your dorm. Storage.com can help you tackle your college career with helpful tips or by providing you a safe storage solution for summer breaks.
College football is almost upon us, so it's time to bust out that portable grill and start preparing for the first tailgate of the season! This time of year is always full of speculation and preseason polls, so here's another one to get you ready for the season. Take a look at the Top 25 Tailgating Scenes in College Football for 2015.
#25- FLORIDA STATE
Florida State fans, much like their bitter rivals in Gainesville, get to embrace the warm weather all year long while tailgating in Tallahassee. Doak Campbell Stadium is one of the most impressive stadiums in college football, and Seminoles fans sprawl around it on game days as they prepare for each home game.
#24- OKLAHOMA
Well known for their part in the spectacular Red River Rivalry, Oklahoma fans create quite the tailgating scene back home throughout the football season. Norman is a quintessential college town, and on game days the entire city gives way to a sea of crimson and cream. Tailgates here are exactly what they should be, complete with plenty to drink and tons of delicious grilled food.
#23- CLEMSON
The city of Clemson is exactly what someone would picture when thinking of a small southern town, which makes it a real treat on college football game days. The city gets overrun by Tigers fans dressed in orange and purple, and the tailgating cuisine is some of the best in the nation. Real Carolina BBQ is served up all around town under orange tents in anticipation of the electric entrance of the football team.
#22- USC
Football and tailgating are completely different on the golden coast of California. Even better, spend a fall Saturday in Los Angeles around the historic LA Coliseum when the Trojans play host. Tailgating in perfect weather under the shade of a palm tree combines the scenery of a tropical vacation with the unrivaled pageantry of college football.
#21- NOTRE DAME
While South Bend is a lot more PG than other tailgating scenes, Notre Dame is still one of the most historically significant teams in college football. There's nothing more inspiring than tailgating within view of Touchdown Jesus and other amazing landmarks around the campus of Notre Dame. Irish fans are also very welcoming so it's a great place to visit as an opposing fan.
#20- FLORIDA
In Gainesville, the Florida Gators play in Ben Hill Griffin Stadium, which is affectionately known as "The Swamp." But outside The Swamp on game day you'll find thousands of fans decked out in orange and blue partying in anticipation of the upcoming game. The weather in Florida is perfect for outdoor parties, and the Gator faithful use it to their advantage on every game day.
#19- IOWA
Surrounding Kinnick Stadium on the campus of the University of Iowa is a residential neighborhood that is full of college students and Hawkeye fans, which allows for great tailgate parties all throughout the nearby streets. You'll see plenty of the standard tailgating fare in Iowa City, but no game day in Iowa City is complete without the legendary "Big Ass Turkey Leg" from a popular vendor on Melrose Avenue near the stadium.
#18- UCLA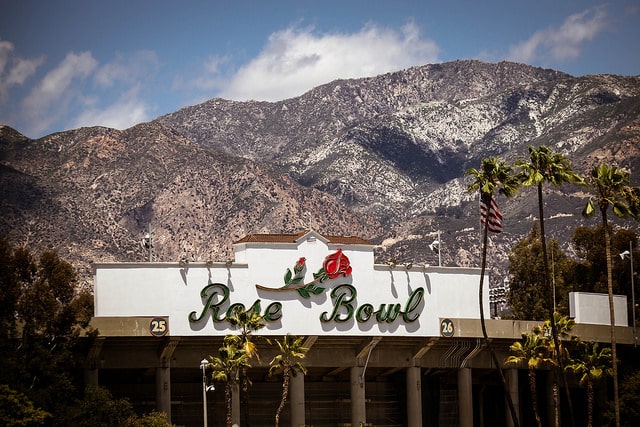 If you want to tailgate in some of the most beautiful scenery in the country, there's no better place than Pasadena. The home stadium for UCLA, and host to one of the most prestigious bowl games, the Rose Bowl is surrounded by palm trees, mountains, and sunny skies. Fans can even tailgate right on the fairways of nearby Brookside Golf Club for some of the classiest tailgating in college football.
#17- MICHIGAN
The Wolverines play in a stadium known simply as The Big House, so you know there are plenty of Michigan fans out and about on a typical Saturday in Ann Arbor. It might not be the most creative tailgating environment, but it's certainly one of the largest. Thousands of people dressed in maize and blue are spread out around the stadium, including on the nearby University golf course.
#16- TEXAS
Everything is bigger in Texas, and that goes for the tailgating in Austin too. Longhorns fans have perfected the art of tailgating over the years, and you'll see plenty of tailgating rigs around Darrell K Royal-Texas Memorial Stadium that go above and beyond. From customized RVs to giant personalized smokers, tailgating is a serious endeavor around these parts. Fans can enjoy great entertainment and some real Texas BBQ.
HOW TO ENSURE PROTECTION
FOR YOUR TAILGATING VEHICLE
#15- SOUTH CAROLINA
 Sure, buses and RVs make for great tailgating rigs, but South Carolina takes it to a whole other level by bringing a locomotive into the mix. The Cockaboose is one of the most unique tailgating vehicles in all of college football, and it sits on a non-functioning track right next to Williams-Brice Stadium. Each caboose train car is fully decked out in luxurious fashion that makes for one of the most memorable tailgating experiences in the country.
#14- TEXAS A&M
Texas A&M has a rapidly growing tailgating scene, and unlike most places, they get the party started the night before the game with one of the coolest traditions in college football, the Midnight Yell. A longtime Aggie tradition, Midnight Yell is where over 20,000 Texas A&M fans gather at Kyle Field to partake in chants and fight songs at midnight before a home game.
#13- AUBURN
The state of Alabama takes their football very seriously, which is why tailgating in Auburn is one of the most amazing experiences in college football. Fans spend all day on Saturdays in the fall eating and drinking in the tailgating village, getting ready for the Tiger Walk. After the game, head on over to Toomer's Corner to celebrate victory by throwing a roll of toilet paper over the newly replaced oak trees.
#12- WASHINGTON
Husky Stadium is situated right next to the picturesque Lake Washington, which allows for some very unique tailgating opportunities. Husky fans call it "sailgating" when they party on boats and yachts in the lake before football games. Beyond the beautiful setting, there's plenty of delicious local beer and fresh seafood to indulge when sailgating in Seattle.
#11- ALABAMA
Fans of the Crimson Tide are a confident bunch, and they have great reason to be. Alabama's football team has been a juggernaut in recent years, and the city of Tuscaloosa wears their pride on their sleeves. But Tuscaloosa is more than just a title town, it's also one of the best tailgating scenes in the country. It's southern cuisine is served with a winning attitude.
#10- GEORGIA
Southern schools take football extremely seriously, and that's no more evident than it is in Athens on game days. This fairly small college town becomes ground zero for Dawg Nation on fall Saturdays, and tailgating is always on the agenda. Known for their part in the World's Largest Outdoor Cocktail Party in Jacksonville, Bulldog fans make sure that each Saturday in Athens is just as fun.
#9- PENN STATE
State College has a huge population of college students, and Penn State University is almost the entire town. Ever since the University started issuing student seats on a first-come first-serve basis, students have been camping out in front of Beaver Stadium to ensure they get the best seats possible. Originally known as "Paternoville," the tent city is now called "Nittanyville" and can reach huge numbers for big games, and sometimes lasts the entire week leading up to Saturday. Combine this amazing tradition with the huge parking lots around Beaver Stadium, and it's no surprise that Penn State is one of the best tailgating scenes in college football.
#8- NEBRASKA
Nebraska fans have packed Memorial Stadium for every home game since 1962, with a sellout streak that is currently sitting at 340 straight games. With so many devoted fans filling the stadium, it's no wonder that there's a lively tailgating scene around Lincoln on fall Saturdays. Due to the location of Memorial Stadium, Husker tailgates sprawl around campus into a neighborhood called the North Bottoms and even into Downtown Lincoln. Opposing fans may encounter the friendliest tailgaters they've ever seen while visiting Lincoln, as many Husker faithfuls will invite them into their tailgate for food and drink.
#7- OHIO STATE
Ohio State is one of the national powerhouses in college football, so it's no surprise that Buckeye fans turn out in droves for every home game. Columbus turns into one huge party on game days, and you'll find plenty of the typical tailgating fare that can be enjoyed throughout the day. But the tailgating scene doesn't stop in Columbus. Buckeye fans are some of the best travelers in the nation and will turn parking lots at any stadium into a Buckeye paradise.
#6- WORLD'S LARGEST OUTDOOR COCKTAIL PARTY
With a name like that, you know this rivalry is all about having a good time before, during, and after the game. Florida and Georgia fans descend upon Jacksonville once a year for this historic rivalry and they bring their tailgating prowess with them. As the name suggests, there are plenty of cocktails to be found in nearby parking lots, along with great food and entertainment.
FIND A TAILGATING SPOT
THAT DOESN'T REQUIRE A DONATION
#5- LSU
Game days in Baton Rouge are an event unlike any other, especially on a Saturday when LSU plays under the lights. Tiger fans celebrate every home game like it's Mardi Gras, and night games are the cream of the crop. When tailgating in Baton Rouge, you'll find plenty of delicious Cajun food, like jambalaya, gumbo, and boudin to go with your drink of choice.
#4- RED RIVER RIVALRY
When you attend the Red River Rivalry, not only do you get to watch a classic college football rivalry, but you also get to attend one of the greatest state fairs in the nation. This gridiron classic is always held during the Texas State Fair, and the Cotton Bowl is right on fair grounds. Fans in attendance get to combine tailgating festivities with rides, games, and delicious State Fair food before and after the game.
#3- OLE MISS
Ole Miss fans have a reputation for being some of the best-dressed fans in college football. In fact, you'll often see fans donning bow ties, blazers, and cocktail dresses on a typical game day in Oxford. The Grove is a beautiful place to spend a football Saturday and is always packed with tailgating tents, grills, and tons of Ole Miss fans. It's also where the Walk of Champions is located, which is where the players enter the stadium by walking right through the middle of The Grove.
#2- TENNESSEE
Tailgating in Knoxville, Tennessee for a Volunteers game is a one-of-a-kind experience. Not only will you find huge crowds of orange-clad fans devouring delicious Memphis-style BBQ, but you'll also find one of the most unique tailgating scenes in all of college football. The Vol Navy uses the nearby Tennessee River — which runs right past Neyland Stadium — both as a way to get to the game and as a premium destination for "sailgating."
#1- WISCONSIN
Madison, Wisconsin is often regarded as one of the best college towns in the nation and it certainly earns that honor on Saturdays in the fall. Fans of Wisconsin football get to enjoy some of the best beer, cheese, and brats in the country while tailgating all around this great football town. Student housing near Camp Randall Stadium combines the fun of house parties with tailgating, and provides a great environment surrounding the stadium all day long. Cool fall temperatures and delicious food and drink just feel right when combined with football. Throw in one of the funnest fan bases, and it's easy to see why Wisconsin has the best tailgating scene in college football.
Do you agree or disagree with the rankings? Vote for your favorite tailgating scene below or join the discussion in the comments section.
If you like tailgating, be sure to check out the 15 Most Epic Tailgating Vehicles and Tailgating Essentials.
All images have either been provided by a listed organization or are licensed under the Creative Commons.
(Visited 8,810 times, 1 visits today)