By Vince Mancuso, Storage.com
Storage.com takes pride in helping people move into their new homes, whether that involves providing a storage unit in between or by helping people discover more about their new city.
Long Beach is a city of its own, not be confused with nearby Los Angeles. Its residents take a sense of pride in this amazing community for things like the beaches, diversity, and proximity to the water. While there are hundreds of reasons why life in LB is great, here are just a dozen of the best things about this California city.
12. LONG BEACH HAS AMAZING WEATHER.
Long Beach has a Mediterranean climate, which means it's pretty mild. In fact, the high temperatures stick between the upper 60s and lower 80s year-round. This isn't to say you may have some lows dip down into the mid-40s here and there, but those days are few and far between, leaving you plenty of time to soak up the amazing weather.
LB's weather is so astonishing that it ranks among the top 20 cities in the country for the most mild and best year-round weather according to Wallet Hub, which analyzed the weather of 600 major cities throughout the United States.
11. THE DOGS ARE STILL HAUTE, HOWEVER.
LBC is home to the Haute Dog Beauty Contest, which features both the Bulldog Beauty Contest and the National Mutt Show. Locals love attending this event as pugs, French and English bulldogs, dachshunds, poodles, and pit bulls strut their stuff. Senior dogs—ages 7 years and older—of all breeds and mixes can compete as well.
Founder Justin Rudd and his nonprofit Community Action Team (CAT) have held this competition for the past 11 years, with more than 200 bulldogs and 200 other breeds competing this year. There are 19 categories, and you can enter your pooch in one or all of them for only $10. Proceeds are dispersed among local canine rescue, adoption, and spay/neuter programs as well as other CAT events/projects.
10. THE ICONIC QUEEN MARY.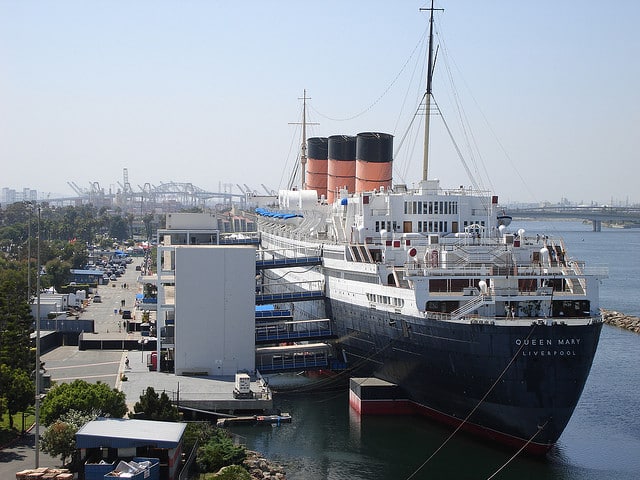 While most locals tend to avoid tourists traps, the Queen Mary is an LBC icon. This floating hotel and attraction has a history dating back to the 1930s, when she was the premier way for transatlantic travel. Through her years, this cruise ship has carried celebrities, royalty, and dignitaries, and she even served as the largest and fastest troopship in World War II.
While her cruising days are over, this hotel still offers unique staterooms for guests as well as historic tours, shops, spas, and other events. You may even see a ghost or two, as Queen Mary is known as "the haunted ship". Locals love to hit on-board sites such as Sir Winston's for a bite to eat or enjoy a drink at the Observation Bar.
9. GREAT PLACES TO EAT FOR THE LANDLUBBERS TOO.
If dining on a boat isn't your thing, don't worry, Long Beach still has you covered. Locals love places like The Attic on East Broadway, which is a great place for brunch and dinner with a mix of American-style food. The biggest draw may be the Mac and Cheetos—pasta with three types of cheese and "topped with crumbled flaming hot Cheetos and green onions," for a taste and texture you're bound to love. Wash it down with a Build Your Own Blood Mary, just be sure to add a rib to yours.
For those who prefer seafood, check out Pier 76 Fish Grill on Pine Avenue. If you stop there you must get the highly-recommend Langostino and Lobster Roll, which is a delicious and creamy sandwich with bacon on top.
8. COOK YOUR MEALS WITH LOCAL PRODUCTS.
Long Beach plays host to a number of impressive farmers markets, so if fresh food is among your favorites, then you're in luck. While you can find a great market almost any day of the week, people love the Long Beach Southeast Farmers Market in the parking lot of the Alamitos Bay Marina on Sundays. With nearly 30 vendors, you can find anything from local produce to homemade clothing. Some tips: get there early for decent parking, search stalls toward the middle for cheaper pricing, and if you find the red tent that sells seafood, get the spicy tuna hand roll.
If you'd rather be the one growing your own food, check out the Long Beach Community Garden. This group offers a paid-membership that gets you access to one of 303 20×30 plots, which includes water access, manure for tilth, mulch, and disposal for your garden waste.
7. EXPERIENCE SEA LIFE, NOT JUST THE PACIFIC.
While it's named the Aquarium of the Pacific, this aquarium is so much more than just one ocean. You can see more than 11,000 animals representing over 500 species across this 5-acre complex, which includes exhibits of life from across the globe, including sharks, rays, and birds. With so much to offer, it's no wonder that Trip Advisor named the Aquarium of the Pacific one of the best aquariums in the country.
A popular exhibit is the June Keyes Penguin Habitat, where people can watch the crazy antics of the animals. Everyone can easily recognize each penguin by its own name and unique personality.
6. CATCH A PLAY AT THE LONG BEACH PLAYHOUSE.
Having been established in 1929, the Long Beach Playhouse is the oldest continuously running theatre company west of the Mississippi River. It aims to entertain a diverse community with a mix of quality theater productions, educational programs, and other collaborative efforts with its two stages.
The Mainstage offers 200 guests a chance to see contemporary and classic dramas, comedies, and musicals on a platform stage with horseshoe seating, while the Studio Theater on the second floor gives more intimate showings. This proscenium stage offers experimental, contemporary, and adult-oriented performances to 100 or less show-goers.
5. ENJOY THE MOLAA.
 The Museum of Latin American Arts, better known simply as MOLAA, is a little gem near the East Village on the corner of East 7th Street and Alamitos Avenue. While it has only been around for just shy of 20 years, it is the only museum in the United States that is dedicated to modern and contemporary Latin American Art.
Locals love it for the many exhibits—including a sculpture garden—as well as how well taken care of the grounds are. And the best part? MOLAA is free on Sundays.
4. LBC EMBRACES DIVERSITY.
Long Beach ranks among Wallet Hub's most diverse cities in America, with the Hispanic or Latino population making up more than 40 percent of the total population. Long Beach also has the largest Cambodian population in the nation. You can even visit Cambodia Town, a one-mile long corridor along Anaheim Street in Eastside where you can watch the Cambodian New Year parade, enjoy the Khmer Arts Academy and the Kok Thlok dance troupe, or visit a number of Cambodian shops and markets.
Aside from the cultural diversity, Long Beach has long been a major source of pride through the Long Beach Lesbian and Gay Pride Celebration. This two day festival is one of premiere in the country, bringing in more than 80,000 visitors from across the country.
3. ONE CITY, MANY NEIGHBORHOODS.
While it's a relatively small area, LBC is home to a large number of neighborhoods and communities, which makes the city a pleasant mix of areas with distinct culture. For instance, check out the 4th Street Corridor, or Retro Row, to experience the culture through vintage shops and boutiques, galleries, and dining.
Belmont Heights is a great example of a place to live with a mix of house styles, from craftsman bungalows to Tudors. Plus, this neighborhood's western border of Redondo Avenue gives residents quick and easy access to other parts of the city.
2. PEOPLE LOVE THE WATER.
Even though the breakwater prevents any waves worthy of surfing, Long Beach has plenty of opportunities to enjoy the water, such as skiing, sailing, wind surfing, and other water sports.
Check out Kayaks On the Water or rent a paddle board at Aloha Sup Rentals to see the city from the water. Enjoy exploring the Naples canals or Alamitos Bay for some relaxing time on the water or test your skills against the Pacific Ocean off Belmont Shores. But, whatever you do, don't rent a hydrobike—unless you want people to know you're from out of town.
1. AND THE BEST THING ABOUT LONG BEACH…
What's your favorite thing about Long Beach? What did we miss? Let us know in the comments!
If you're moving to Long Beach and need storage space to help with the transition, view Storage.com's directory for self storage in Long Beach.
All images have either been provided by a listed organization or are licensed under the Creative Commons.
(Visited 596 times, 1 visits today)