By Kacie Hughes, Storage.com
Here at Storage.com, we want to help people get their homes organized and clean, whether through the use of self-storage or helpful online tips and hacks that you can try yourself.
The entryway of a home tends to be the most unorganized area of the house. With dozens of shoes and never-ending junk mail, it can often seem like there isn't a reason to keep the entryway tidy. However, when done right, the entryway can quickly become your favorite room of the house. Wow your guests the minute they walk in the door with these 10 unique DIY entryway hacks.
1. ELIMINATE THE PHRASE "WHERE ARE MY KEYS?" WITH THIS DIY HINGED PICTURE FRAME.
A question that is old as time, or since doors and cars were invented, has been, "Where are my keys?" Eradicate this phrase from your life with this DIY hinged picture frame hack. You can hang up all of your keys and mask it behind one of your favorite framed images. Not only is it functional, but it also adds a level of security to your life. Go a step further and make the back of the frame magnetic or turn it into a dry erase board to keep important notes and receipts.
2. DON'T JUST BUY AN ENTRYWAY TABLE, CREATE A DIY 'MANTLE'PIECE.
Take your entryway table to the next level by making it yourself. Piece together a mirror you love, some elegant corbels, and a piece of wood to create a DIY console table. Not only is it beautiful, but it's also functional! With an entryway mantle, you can place your shoes and boots beneath it, allowing for maximum space. Your guests will be wowed the moment they walk into the door!
3. AN INDUSTRIAL DIY TO TRANSFORM YOUR STAIRCASE INTO THE ULTIMATE STORAGE SAVER.
Most entryways are taken up by staircases, leaving very little room for anything else. Take advantage of that wasted space and create a DIY mini storage room beneath the stairs. Even though this may be an industrial DIY, it is still a project to consider. Think about how much extra storage you will have after the expansion!
4. THINK OUTSIDE THE BOX WITH A DIY COAT RACK.
You can create a coat rack out of pretty much anything, even antlers! Keep it simple with this DIY pallet coat rack or try a DIY coat rack made out of an old headboard or antique skis. Clear your outerwear clutter from the entryway without throwing it into one of those plastic storage containers. Be proud of your new bag or coat, and hang it for everyone in your entryway to see!
5. KEEP THE CLUTTER TO A MINIMUM WITH THIS DIY CLOSET HACK.
You may be able to keep your entryway clean, but the real challenge is managing a messy entryway closet. This is where coats, shoes, gloves, and hats from every member of the family seem to wind up. Keep your closet clutter-free with this DIY shelving unit, which can be tailored to whatever size your space is. With an array of shelves, baskets, and hanging space, it will be impossible to let those jackets and tennis shoes pile up!
6. BE READY FOR RAIN OR SHINE WITH THIS CHIC DIY UMBRELLA HOLDER.
Never know where to place your soaking wet umbrella after a rainy day? Create a DIY umbrella stand with an old metal flower pot and some paint. By using an oil-based enamel paint and a galvanized metal bucket, you can create the perfect place to store your umbrellas, rain or shine.
7. A DIY STORAGE LOCKER FOR THE KIDS.
Let's face it, kids and the concept of cleaning have a hard time getting along. Help them help you by giving them their own luxurious locker! This will give your children a sense of ownership, thus making it much easier to have them clean up after themselves. With their own lockers, the kiddos will keep the mess inside their cubby and not for the rest of the house to see.
8. USE A DIY MAIL SYSTEM TO KEEP THE CLUTTER AWAY FROM THE ENTRYWAY TABLE.
In today's digital age, mail is becoming more and more obsolete, but somehow we still receive all types of mail and flyers every single day. Make the way you sort your mail easier with this DIY file organizer or this DIY window shutter hack. Never miss a bill by separating coupons, personal letters, and junk mail into their own section. From there, decide what should be saved and what can be shredded.
9. WHEN IN DOUBT, USE A BASKET.
Baskets are the king of clutter management. Table tops, closets, and floors can be cleared in a flash with a great decorative basket. You can leave them open to show off your stuff or use this DIY basket lid tutorial to hide your clutter from guests. Baskets are a great start to decluttering your entryway, and are affordable at any local home goods store.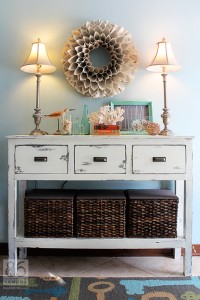 10. NEVER TRIP OVER A PILE OF SHOES AGAIN WITH THIS DIY SHOE STORAGE HACK.
The culprits of a cluttered entryway are always shoes. No matter how many times you put them away, they're back in a flash with a pile of their friends. Take control of your shoe clutter by taking matters into your own hands. If you have an entryway bench, utilize the storage space by building DIY drawer dividers that will be perfect holders for all of your shoes. If you have an ottoman, you can turn that into a storage saver with this DIY shoe storage ottoman tutorial.
At first glance, the entryway may seem like a place only meant for coats and shoes. However, once you apply these DIY hacks to your home, your entryway will go from a mess to the best room in the house!
What are some of your DIY entryway hacks? Let us know in the comments below!
All images have either been provided by a listed organization or are licensed under the Creative Commons.
(Visited 3,087 times, 1 visits today)