By Logan Livers, Storage.com​
Storage.com is an advocate of a cleaner home, whether through helpful tips for tackling clutter or the use of a storage unit.
Looking to clear clutter at home? It's amazing how fast a home can get unorganized. Unfortunately, getting back on track isn't the simplest thing to do. That's why we've compiled some of the absolute best tips from the best home organizing websites out there to help you successfully declutter your home! Enjoy!
A Bowl Full of Lemons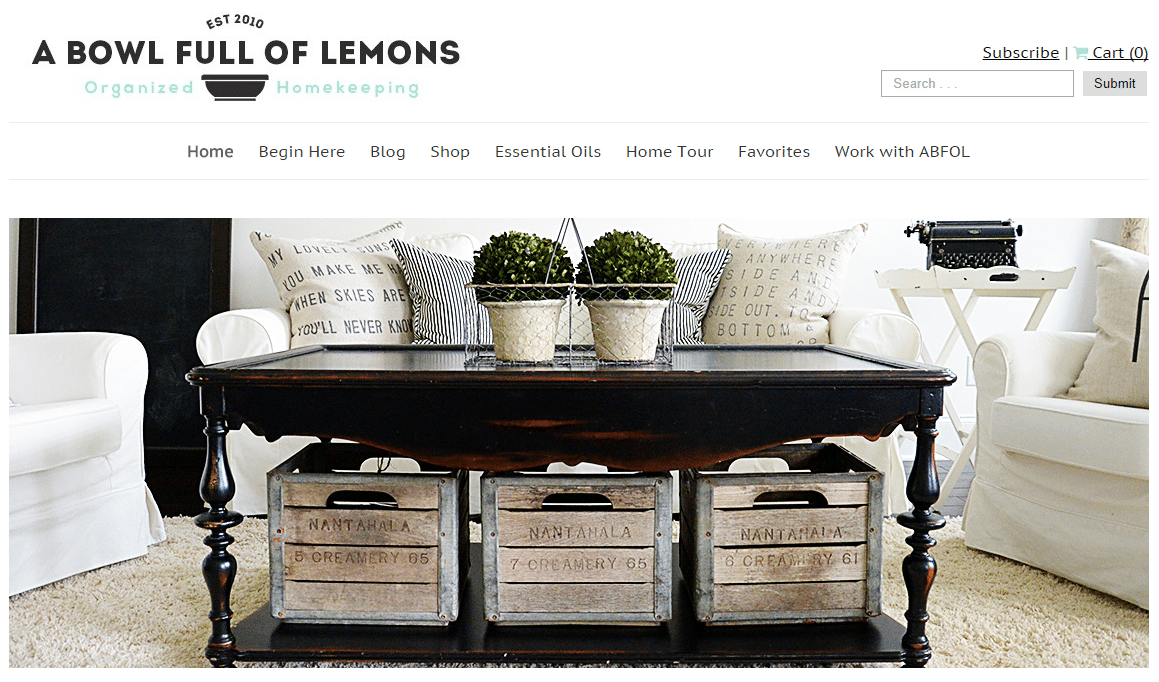 A Bowl Full of Lemons covers five main categories: organizing, budgeting, cleaning, decorating, and menu planning. For the sake of decluttering, organizing is where you'll want to start. The website has a really great "Begin Here" section that will get you moving. And there's no shortage of great advice for removing clutter.
Decluttering Tips:
Alejandra.tv
Alejandra.tv is the home of Alejandra Costello, a professional organizer who has a passion to help people get their life organized. Alejandra produces excellent video guides on how to organize everything around your home, from desk drawers to the area underneath your bathroom sink. She also offers a comprehensive organization program that's designed to help people establish organization as a lifestyle.
Decluttering Tips:
Andrea Dekker
Andrea Dekker is more than just a popular blog and brand! She's a wife and mother of two who considers herself a "life simplifier," and that's exactly what her blog is centered around. Simplify your life with tips for everything—lifestyle, home, food, family, and work. For decluttering tips, her blog posts about cleaning and organizing your home will get you headed down the right track.
Decluttering Tips:
Becoming Minimalist
As the website title suggests, Becoming Minimalist is dedicated to simplifying life by clearing clutter from your home and your life. Becoming Minimalist is wildly popular and has been featured in CBS Evening News, NPR, The Boston Globe, and The Wall Street Journal.
Decluttering Tips:
Delightful Order
Delightful Order is an energetic blog focused on helping readers simplify, create, organize, and decorate. With plenty of organization products, digital documents, free printables, and excellent organization advice, Delightful Order can give you a huge boost in cleaning up and organizing your home.
Decluttering Tips:
Design Sponge
Design Sponge is a modern and diverse website with advice and inspiration for everything around the house. With blogs about interior design, DIY, food and drink, travel, and much more, you can find exactly what you're looking for on Design Sponge. Look through rooms with beautiful design, DIY projects, and organization tips for inspiration on how to declutter your living spaces.
Decluttering Tips:
FlyLady
FlyLady has been a mentor to women all around the country since 1999, teaching them how to organize their homes and how to love themselves. Her website has helpful programs, blog posts, products, and much more that will help you get organized and stay that way. You can even sign up for FLYmail to receive FLYing lessons every day focused on cleaning and organizing.
Decluttering Tips:
Honey We're Home
Honey We're Home was created by a 37-year-old mother named Megan who talks about a lot of different categories, including home, DIY, organization, holidays, fitness, and fashion. With so many great topics, this is a one-stop destination for mothers everywhere who are looking for some inspiration for their homes and lives. Megan's organization tips are great for cutting down on clutter around the house and can help you achieve a clean, functional living space.
Decluttering Tips:
I Heart Organizing
I Heart Organizing is full of useful information for getting your home organized and keeping it that way. With an abundance of DIY projects, a massive organization project gallery, and a great selection of free printables, you can't go wrong! For decluttering advice, the best information will be found in the project gallery, which is broken out into groups to make finding what you need easy. Kids and school organizing, living/family room organization, and bathroom organization are just a few of the different categories.
Decluttering Tips:
I'm An Organizing Junkie
I'm An Organizing Junkie (or OrgJunkie) has an extensive content library featuring advice on home organizing, storage solutions, time management, and menu planning. One of the nicest things about this website is that it's very organized (go figure). The "Storage Solutions" section is broken down so that you can view solutions for each room in your house, and the "Learn To Organize" section has multiple categories covering basic home organization, how to purge, and controlling clutter.
Decluttering Tips:
Organize with Sandy
Sandy, a professional organizer and mother/stepmother of eight, shares great tips on Organize with Sandy with her partner, Amy. The blog is full of amazing tips for home organization, cleaning, DIY projects, family, and much more. There are two writers on this site. Sandy focuses mostly on organization while Amy lends her expertise on family, cooking, gardening, traveling, and reviews. Whether you're looking for a DIY project or advice on how to get organized, Organize with Sandy is a great place to begin.
Decluttering Tips:
Organized Home
Organized Home shares tips for cleaning, organizing, cutting clutter, and more. Aside from helpful blog posts with tons of cleaning tips, there are also cleaning challenges that readers can participate in and printable calendars, planners, and other worksheets to help you get your life a little more organized.
Decluttering Tips:
Organizing Home Life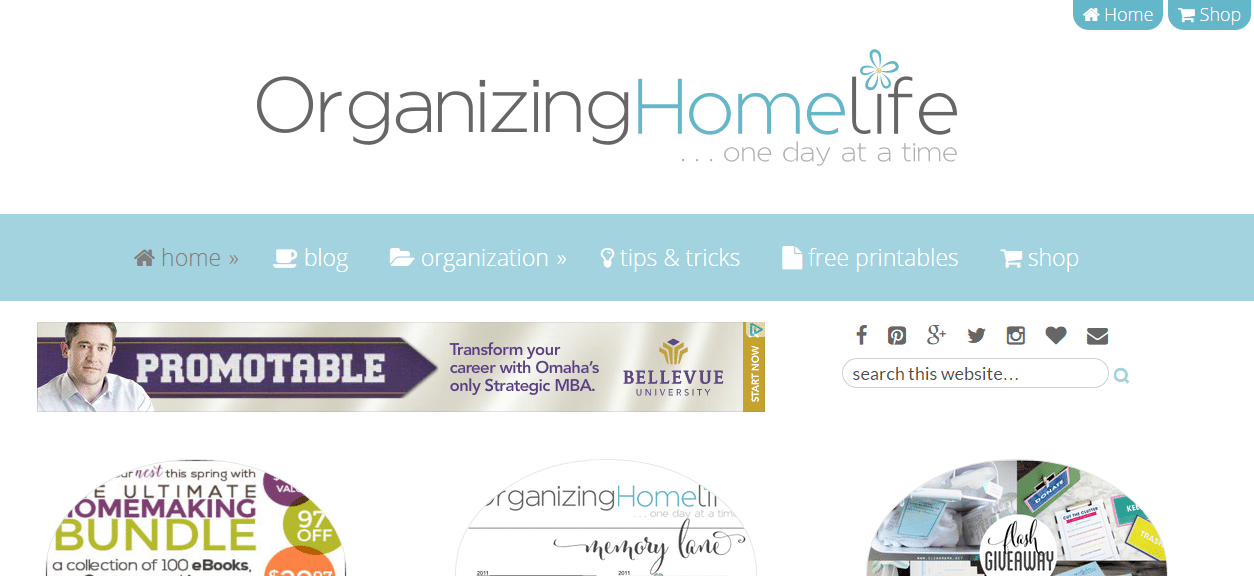 Organizing Home Life is a fun, energetic website that provides a great variety of organizing tips ranging from home organization to purse organization. The site covers the basics like closet organization, pantry organization, and family room organization, but it also has some unique categories for jewelry organization and recipe organization. In addition, there's a great selection of free printable sheets to help with your upcoming efforts to get organized and create a less cluttered home!
Decluttering Tips:
Organizing Made Fun
Organizing Made Fun is a spectacular blog that makes cleaning and organizing fun. Created and written by Becky Barnfather, this blog specializes in decluttering, organizing, DIY, and cleaning. Becky understands that many people trying to get organized are on a budget, so she has plenty of affordable tips.
Decluttering Tips:
Real Simple
Real Simple is an incredibly popular website that covers home organizing. "Life Made Easier" is their tagline, and the articles they write help do just that. Beyond home organizing, Real Simple also covers topics like recipes, beauty and fashion, holidays and entertaining, weddings, health, and more.
Decluttering Tips:
Simply Organized
Simply Organized is dedicated to home organization, whether it's in the home, office, or while traveling. Professional organizer Samantha offers amazing tips to help you organize every room in your house and do some DIY home improvement. Click through the organization gallery to view tips for every room imaginable and gain some much needed inspiration to tackle your own projects.
Decluttering Tips:
Unclutterer
Unclutterer provides the full decluttering experience. You can find organizing tips and strategies, product reviews, and reader questions answered by the Unclutterer team. Venture to the "Archives" page and you'll quickly learn that Unclutterer has thousands of posts to choose from, broken down into simple categories. The "Office Organization" category is one we highly recommend visiting.
Decluttering Tips:
Zen Habits
Zen Habits is a very popular blog created by Leo Babauta that's centered on clearing clutter in daily life so you can focus on what's important, like finding happiness. Every week, articles are published about simplicity, health and fitness, motivation, organization, and much more! Zen Habits also has top-notch tips for decluttering your home and will help you live a happier, more fulfilled life.
Decluttering Tips:
The Internet is full of great advice for decluttering and organizing a home, but there are always new tips to share. Do you have a favorite website for home organization or a great tip on how to declutter a room? Let us know in the comments section!
(Visited 36,451 times, 1 visits today)